Lodging With Kitchens
Orcas Island has no shortage of skilled chefs and exotic restaurants, but for those with their own supplies, skills, and ambition for homemade cooking there are a number of lodging options with complete kitchens and facilities.
Deer Harbor Inn and West Beach Resort offer cabins with full kitchens; additional cooking supplies can be purchased from marina stores near the Resorts.  Smugglers Villa, located just north of Eastsound, features several large rental homes fully stocked for a luxury vacation or rental experience.  Enjoy familiar cooking with sunlight porches and waterfront picnic sites on beautiful Orcas Island in the San Juan Islands of Washington State.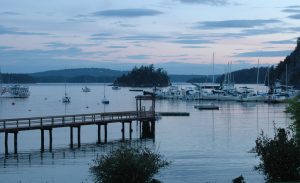 Your personal guide to beautiful Deer Harbor on Orcas Island.
Deer Harbor, Orcas Island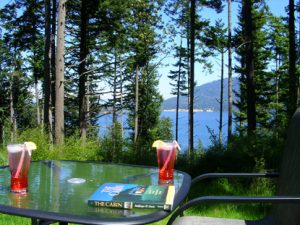 Laughing Moon Farm is located on Eastsound Bay in the center of Orcas Island. We have over 20 acres of farmland and woodland with beautiful views of the water. We take great pride in caring for our animals, including several rare-breed cotswold sheep, native to Cotswold England and known by many as the "Gentle Giants" among sheep. While staying at Laughing Moon Farm, you will be located in the center of our property surrounded by the serenity of nature. Our new hand-crafted cottages have wood interiors, fireplaces, full kitchens with all the supplies, covered patios, TV-DVD players and BBQs. Whether you are a group of two, or a group of six, our cabins are ideal for friends and family alike. Get away!
Call 360-376-7879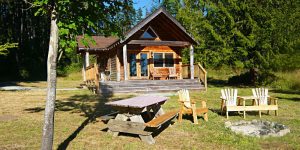 West Beach Resort is located on the sunny and pristine west side of Orcas Island, Washington. We are a private destination resort specializing in providing guests with an authentic San Juan Islands getaway. We have been an Orcas Island lodging and hotel destination since 1938. Stay in our fully-equipped beachfront cabins & cottages on our world class walk-out, west-facing, sand/pebble beach and watch the sunset as you relive the day's adventures from your private beach fire pit.
Call 877-937-8224, Eastsound, Orcas Island
At Smuggler's Villa Resort you'll savor the natural beauty and relaxed pace of the San Juan Islands. Located on the north shore of Orcas Island, our villas face the most breathtaking sunsets in the Northwest. Our large, comfy condo's are perfect for families and groups, with two bedrooms, full bath (larger units have additional twin beds and half-bath), fireplace, cable TV, kitchen and laundry. Sliders from living/dining area open onto your own spacious deck with lounge chairs, tables and benches to catch the afternoon sun and incredible view. There's so much to do here!
Call 360-376-2297
Gorgeous high bank waterfront properties located at Orcas Ferry Landing. Very nicely appointed with queen beds, dish TVs, air conditioning, private baths and inviting waterfront decks. Three have living rooms with queen hide-a-beds; two have full kitchens and private queen bedrooms. Mamie's Waterfront Restaurant with magnificent covered patio and open cliff dining. Seasonal Kayak Excursions. High-Speed Internet Hotspot.
Call 360-376-4611
Come stay with us at Beach Haven Resort on Orcas Island!! Since 1939, Beach Haven Resort has welcomed guests seeking the rustic beauty and tranquility of Orcas Island. Our waterfront resort is bordered by one of the only remaining stands of old-growth forest on Orcas. It is home to many species of wildlife, including: bald eagles, deer, otters, various birds, and seals. Our lack of televisions, telephones, and internet access in the cabins ensure a distraction-free escape.
Call 360-376-2288
A wonderful spot for relaxing and small group gatherings, located in sunny Westsound with a spectacular view of Westsound. Walking distance to Westsound Marina, Kenmore Air Seaplane dock and Orcas Yacht Club dock. We offer 400 ft of beach and tidelands, kayaks, game room, swimming pool, hot tub, fire pit, and medicinal and ornamental gardens. Pick from our numerous fruit trees, fully equipped outdoor kitchen and so much more.
Call 360-376-8537, West Sound, Orcas Island
Offering three different vacation rental cottages in beautiful Deer Harbor, located on the West side of Orcas Island.
Call (360) 317-5741
Take advantage of a unique opportunity to experience the life of the islands in the small sleepy village of Olga. Off the beaten tourist track, you can relax in the privacy of your own small cabin. Watch for eagles, herons, otters and passing ferries. Spend the afternoon on the pebble beach, collect beach glass, read a favorite book or just daydream. Walk to Orcas Island Artworks and meet island artisans in their cooperative gallery.
Call 360-376-2845
Your hosts, Jim & Betsy Nelson, offer several lovely vacation rental cottages with full kitchens on twelve private waterfront acres. All have access to a private beach well as stunning views of Mt. Baker, Rosario Strait, and the nearby islands.
Call 360-375-7940, Orcas Island